The "Tumour Targeting, Imaging, Radiotherapies" network of the Cancéropôle Grand-Ouest is pleased to announce its fifteenth international workshop dedicated to young researchers (PhD students and post-docs), even so experienced researchers are invited to participate.
The 15th edition will be focused on:
"New Modalities
in Cancer Imaging and Therapy"
in Erquy, West of France.
The main objective of this international workshop is to confront the points of view and issues of various research fields such as Chemistry, Biology, Physics, Medicine, Computer science, involved in the development of molecular and external beam radiotherapies in Oncology.

This workshop will focus on the latest advances through different aspects:
- The role of artificial intelligence in imaging and radiotherapies
- New imaging tools
- Theranostic aspects
- Latest innovative developments in external beam radiotherapy
- The use of alpha particles
- Vectors for innovative combination therapies
- Molecules and contrast agents  .

Presentations of biologists, chemists, physicists, computer scientists and physicians will cover advances in this field of cancer research.
30 travel grant awards are available for young researchers (PhD students and post-docs).
Invited speakers in 2022:

- Jean-Emmanuel Bibault, Professor, Department of Radiation Oncology, Hôpital Européen Georges Pompidou, Paris, France.

- Gilbert Fruhwirth, Senior lecturer, Comprehensive Cancer Centre at King's College London, United Kingdom.

- Kuangyu Shi, Associate Professor, Artificial Intelligence and Translational Theranostics Lab, Dept. Nuclear Medicine, University of Bern, Switzerland.

- Iuliana Toma-Dasu, Professor, Medical Radiation Physics Division, Stockholm University and Karolinska Institutet, Stockholm, Sweden.

- Kristina Djanashvili, Associate Professor, Delft University of Technology, The Netherlands.

- Nicolas Chouin, Associate professor & Romain Eychenne, Researcher, CRCI2NA, Nantes, France.

- Prisca Boisguerin, Senior researcher, PhyMedExp, Montpellier, France.


The workshop will be built around lectures from the invited expert speakers and thematic sessions with selected oral presentations from young researchers providing valuable opportunities for discussion on innovative issues and highlighting integration among several disciplines.
This workshop aims at sharing scientific results and at facilitating exchanges between experienced and young researchers in the fast-growing field of imaging and radiotherapies.
In order to stimulate intense discussions between young and senior scientists, total attendance is limited to a maximum of 65 participants.
What is the "Tumour Targeting, Imaging, Radiotherapies" network of the Canceropôle Grand Ouest ?
The first "Plan Cancer" was launched in 2003 as an initiative to foster France's efforts in cancer management. One of the actions of the plan was the creation of 7 "Cancéropôles" with the mission of organizing cooperation in the field of translational research between laboratories and clinical departments within a geographic area. Thus the Cancéropôle Grand Ouest (CGO) was set-up, covering 3 of the 13 French Regions.
The CGO is now organized in 7 networks.
The "Tumour Targeting, Imaging, Radiotherapies" network includes four interconnected research domains, which are: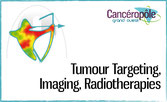 - Concept of innovating agents and nanomedicines for imaging and therapeutic purposes,
- Targeted therapies and radiotherapies for cancer: from animal models to clinical trials,
- Quantitative multimodal imaging and radiotherapies,
- Biological response and radiotherapies.