The "Tumour targeting, Imaging, radiotherapies network" of the Cancéropôle Grand-Ouest is pleased to announce its thirteenth international workshop dedicated to young researchers (PhD Students and Post-Docs), even so experienced researchers are invited to participate.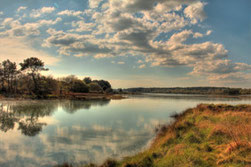 This workshop will be focused on
"Imaging of diagnostic and therapeutic biomarkers in Oncology"
from the 25th to 28th of September 2019 in Le Bono, West of France.
The main objective of this international workshop is to confront the points of view and problems of the various disciplines, Chemistry, Biology, Physics, Medicine, working for the development of imaging in Oncology.

This workshop will focus on the latest advances in imaging techniques: PET, SPECT, MRI, US, Infra-red, Bioluminescence, Fluorescence, Photoacoustic, CyTof Imaging, Microscopy, Spectroscopy and Raman Imaging. It aims to address innovative developments in chemistry (synthesis of tracers, chelates, contrast agents, fluorescent probes, etc.), biology (identification of new tumour targets, etc.) and physics (instrumentation, methodological aspects of image analysis, radiomics ...).

Presentations of biologists, chemists, pharmacists and physicians will cover advances in this field of cancer research.
30 travel grant awards are available for young researchers (PhD students and Post-Docs).
Program contents keynote presentations of internationally recognized researchers including:
- Bart Cornelissen, Department of Oncology, University of Oxford, United-Kingdom
- Gilles Gasser,  Chimie ParisTech, Paris, France
- Michelle Ma, Kings College London, United-Kingdom
- Olivier Piot, BioSpecT, University of Reims, France
- Thomas Just Sorensen, University of Copenhagen, Denmark
- Dimitris Visvikis, LaTIM, National Institute of Health & Clinical Sciences, Brest, France.
Overview lectures will be given by experts in the different scientific fields adressed by the workshop. A number of selected oral presentations given by young researchers will complete the different scientific sessions. This workshop aims at sharing scientific results and at facilitating exchanges between experienced and young researchers in a fast advancing field.
To stimulate intense discussions between young and senior scientists, the total attendance is limited to a maximum of 65 persons.
Deadline for abstract submission: June 14th
Deadline for registration is extended to July 12th
What is the "tumour targeting, imaging, radiotherapies" network of the Canceropôle Grand Ouest ?
The first "Plan Cancer" was launched in 2003 as an initiative to foster France's efforts in cancer management. One of the actions of the plan was the creation of 7 "Cancéropôles" with the mission of organizing cooperation in the field of translational research between laboratories and clinical departments within a geographic area. Thus the Cancéropôle Grand Ouest (CGO) was set-up, covering 3 of the 13 French Regions.
The CGO is now organized in 7 networks.
The "Tumour Targeting, Imaging, Radiotherapies" network includes four interconnected research domains, which are: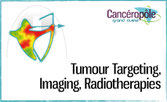 - Concept of innovating agents and nanomedicines for imaging and therapeutic purposes,
- Targeted therapies and radiotherapies for cancer: from animal models to clinical trials,
- Quantitative multimodal imaging and radiotherapies,
- Biological response and targeted therapies.