The "Tumor targeting & radiotherapies network" of the Cancéropôle Grand-Ouest is glad to announce its tenth international workshop dedicated to young researchers (PhD Students and Post-Docs).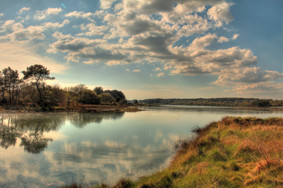 This workshop will be focused on:
"New chemical and biological tools   for targeting in cancer imaging and therapy"
from the 21st to 24th of September 2016 in Le Bono, West of France
The main objective of this international workshop is to present how chemistry and biology can be associated in order to contribute to innovative approaches in imaging and therapy of cancer, in the context of targeted medicine. Each session will include presentations of both chemists and biologists that will cover recent advances in this field.
Overview lectures will be given by experts in the different scientific fields targeted by the workshop. A number of selected oral presentations given by young researchers will complete the different scientific sessions. This workshop aims at sharing scientific results and at facilitating exchanges between experienced and young researchers in a fast advancing field. 
30 travel grant awards are available for young researchers (PhD students and Post-Docs).
The symposium is organized into 4 sessions held within 2.5 days. Each session will start with an invited expert summarizing the essence of a selected aspect in the field of design and evaluation of news tools for targeting in cancer imaging and therapy. Six oral presentations from young researchers, based on original data, and selected from proffered abstracts will complete each scientific session.
Dates :
Abstract due : June 15th
Registration deadline : July 11th
What is the tumor targeting and radiotherapies network of the Canceropôle Grand Ouest ?
The first "Plan Cancer" was launched in 2003 as an initiative to foster France's efforts in cancer management. One of the actions of the plan was the creation of 7 "Cancéropôles" with the mission of organizing cooperation in the field of translational research between laboratories and clinical departments within a geographic area. Thus the Cancéropôle Grand Ouest (CGO) was set-up, covering 4 of the 22 French Regions.
The CGO is now organized in 10 networks.
The Tumor Targeting and Radiotherapies network includes four interconnected research domains, which are:
- Concept of innovating agents and nanomedicines for imaging and therapeutic purposes,
- Targeted therapies and radiotherapies for cancer: from animal models to clinical trials,
- Quantitaive multimodal imaging and radiotherapies,
- Biological response and targeted therapies.
This network is coordinated by Dimitris Visvikis, LaTIM, National Institute of Health & Clinical Sciences, Brest, France.
More information : http://www.canceropole-grandouest.com